Maximuscle Max Meal HP
Max Meal High Protein sachets
High Protein Maxmeal- At long last, Maximuscle have back in stock, their popular High Protein Max-Meal MRP sachets. These have taken place of both the regular Max-Meal and the original Max-Meal High Protein (16 sachet) boxes.
I haven't had chance to test the re-formulated flavours yet, but hopefully they are far better than the original Max-Meal flavours which generally received poor comments with regards to flavours. I'll post my own thoughts on the tastes as soon as I have tried them.
---
Max-Meal High Protein (new flavour & size)
Super high protein meal replacement food for bodybuilders, power lifters and strongmen looking to pack on muscle size, increase strength, recovery and all out power.
For the serious muscle men, nothing beats the new high protein Max-Meal, now with Nitrogain™ and Orotic acid. No other meal replacement formula comes close. With 53gm of protein per 85gm sachet you are guaranteed more protein, than any other meal replacement formula out there. The most amazing fact is that Max-Meal contains no milk powder, egg, soya or casein (micellular), just the most advanced Biomax whey protein, so you can expect superb gains, with zero stomach upsets and no wind.
Max-Meal is directed at the low glycemic market by using a combination of special proteins, the finest essential fatty acids (EFA's), MCT's and fibre. The EFA's used are the exact fats your body needs to stay lean, optimise your metabolic rate and support the fat burning process. No other meal replacement comes close for the serious muscle and strength gainers amongst you.
Max-Meal also includes a potent blend of minerals and vitamins that every hard training bodybuilder and athlete needs for optimum recovery and immune system health. Most amazingly, Max-Meal High Protein mixes with water to produce a fantastic tasting smooth milk-free 'milkshake.' You won't believe it when you try it. It's destined to convert everyone that tries it. No other meal replacement has research showing a more effective and potent blend of ingredients for promoting lean muscle tissue, strength and power. Max-Meal High Protein is for serious trainers that demand serious results.
Want even better discounts on Maximuscle supplements? Check our Trade Price Maximuscle Supplements store!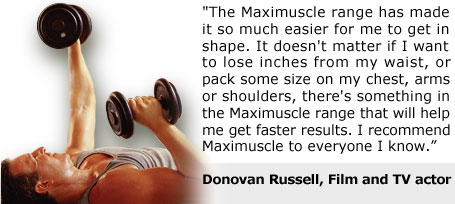 Features:
A massive 53gm of Biomax whey protein per sachet
Just 12gm of complex carbs per sachet
7gms of Essential fatty acids, MCT's & good fats
Great tasting & Instant mixing
Great tasting & Instant mixing
The most powerful, cost effective and best tasting hardcore meal replacement available. (85g sachet – 20 per box)
Contains Nitrogain™ (a power blend of OKG, NAC, Glutamine peptides, Chromium Polynicotinate) & Orotic acid